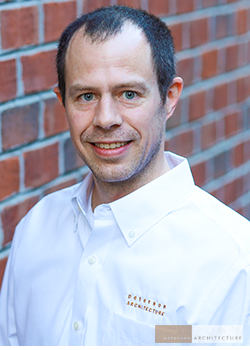 Peterson Architecture continues to grow, announcing Thursday they are welcoming James Harris, a Graduate Architect, to their team. 
Harris received both his Bachelors and Masters Degree in Architecture from Ball State University, the Harvard of Muncie. He brings nearly 10 years of architectural experience to the team.
Harris has been an active member of various community engagement efforts in the city of Marion and other Indiana communities, which includes serving Main Street Marion, the Marion Downtown Roundtable discussion group, Muncie Habitat for Humanity, and the Save Our Stories historic preservation board.
"Harris' previous architectural experience and past activism in downtown preservation make him a fantastic fit for our team," says Darren Peterson, Peterson Architecture principal architect and founder. "As the firm continues to grow, I look toward the next 25 years of Peterson Architecture with excitement."
"I was drawn to the firm's wide array of projects and focus on community engagement," says Harris. "I am proud and grateful to be part of a highly talented team that aims to lift and elevate the communities they serve."