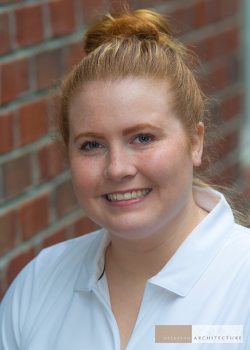 Peterson Architecture has announced the promotion of Claire Sloderbeck to Graduate Architect.
Sloderbeck brings a wealth of experience and knowledge to her new role. Over the past three years, she has served as an Intern Architect at Peterson Architecture, where she has shown talent and a strong work ethic.
"We are thrilled to have Claire join our team. Claire is talented and will be a great asset to our clients," said Principal Architect and owner, Darren Peterson.
In her role as Graduate Architect, Sloderbeck will be responsible for leading and managing projects through all phases, coordinating with other disciplines, maintaining close communication with clients to manage expectations, and liaising with general contractors during the bidding and construction phases.
Sloderbeck has received multiple awards and recognition for her achievements in architecture. In 2023, she was honored as a TEG Awards Finalist for her Diploma Project, "Resilience"; which focused on advocating for and enhancing the quality of services for survivors of domestic violence and sexual assault. Additionally, Sloderbeck's project titled "The Loop" was published in AISC's Modern Steel Construction magazine.
Outside of work, Sloderbeck volunteers for Prevail, Inc and is involved in the National Council of Architectural Registration Boards.